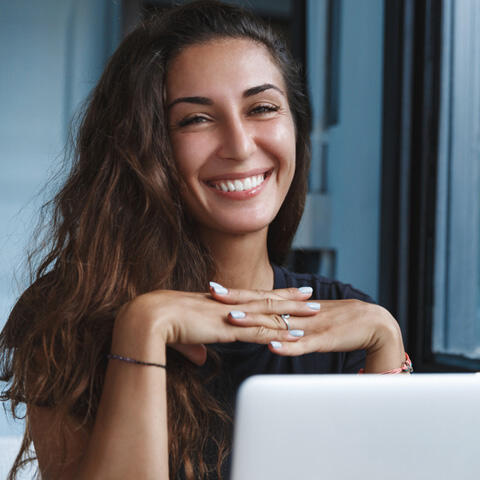 Who You Are
You are organized, professional, and innovative. You're a little bit of a computer nerd and always know what's going on with the newest Google updates. You have a few good clients, and you market your work online to attract new potential clients. You enjoy completing projects and bringing your client's vision to life. You also prioritize flexibility and appreciate innovative tools that simplify how you run your business.
The Struggle
Time is your most valuable resource. Tedious tasks get pushed to the side when you have several projects you have to focus on at once. After a while, things start to pile up. Then you have to back off your projects for a bit to get caught up. It's a cycle of playing catch up and trying to find balance in your personal life as well. 
What We Recommend
We recommend a tool the removes the complications of sharing information. A good choice for you would be to invest in a single digital business card like the one mTap offers. These tiny devices allow you to share information with clients instantly. They look and feel like a credit card and can be carried around with you in your wallet. Tap it against a phone to immediately transfer the information on that card into the smartphone.
Social media is a great space to promote yourself as a freelancer, but there needs to be more than just organic traffic for it to work. Make sure the right people see your work by sharing your social media on your digital business card. That way, you will gain engagement from people already familiar with who you are, attracting more potential clients organically.
Electronic payment systems are beautiful tools for freelancers. You can instantly share your payment information for a client to make a payment from their phone if you link your Venmo or PayPal on your digital business card. mTap also allows you to accept payments from credit and debit cards. Your clients will appreciate how quick and secure this feature is when sealing a deal with you.
Having an online reputation is incredibly important for digital freelancers. Wherever people are searching for your services, they will look at your reviews before getting in touch with you. To collect many good reviews, ask your clients to leave an online review right after your service. People will be more likely to help you build your reputation if you make it easy to do. To simplify the review process, add a link for customers to leave a review on their phone on your digital business card.
Of all the tools for freelancers you could choose from, mTap provides the most direct and automated experience to simplify marketing your services.